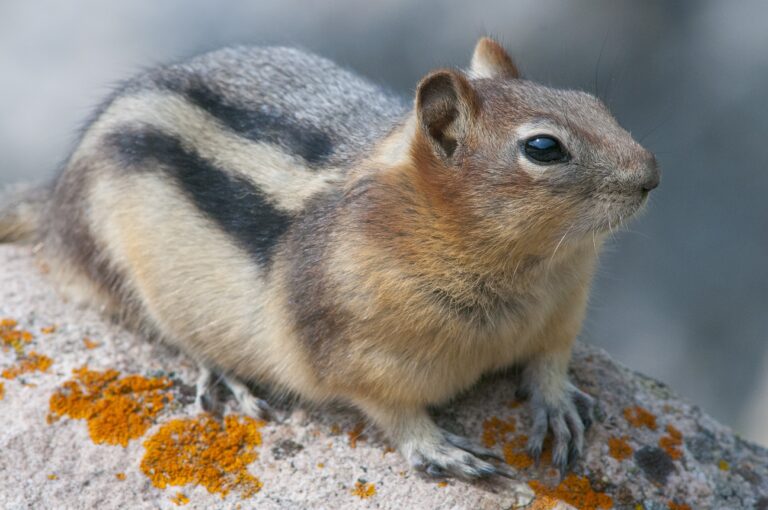 Tuesday, August 22, 2023
Through thicc and thin: Winter weight gain and other wildlife survival strategies
Recently I've been watching Alone, a reality TV show where 10 people have to survive in the wilderness, by themselves, with no food or water and minimal gear. The last person standing is the winner.
To give himself the best chance of winning, one of the participants (a Canadian) adopted an unusual strategy: prior to the contest, he purposely gained 60 pounds of fat. The idea was he could stave off starvation while he learned to live off the land. To gain those reserves, every day, the participant drank a gallon of milk and a cup and a half of olive oil. The episode made me want to examine some of Jasper's wildlife through a similar lens: how do some of our favourite fauna tough it out over winter?
In Jasper National Park's wildlife kingdom, once August rolls around, young birds and animals are often on their own (or nearly so). Late summer is the time for animal parents to begin shifting their attention away from only feeding the kids, to ensuring the whole family is fit (or fat) enough to survive the winter. That might mean migration to sunnier climes, or toughing it out through the sub-zero rigours of a Canadian winter. Unlike humans, animals don't give a darn about being overweight. Instead, they are far more likely to fret about not being heavy enough!
Sleep-eating
One well-known strategy to survive through the winter is to sleep through it—otherwise known as hibernation. But to slip into that sluggish slumber, animals require ample fat reserves. Animals in hibernation have a lower heart rate, lower breathing rate, and lower body temperature—all of which reduces calorie burn and increases the odds of making it to spring—but they still need to pack on the pounds.
Black bears and grizzly bears are renowned for their late summer and fall gorging, just prior to their winter down-time. There's even a fancy name for this season: hyperphagia, or 'excessive appetite' in Latin. For us, the term refers to compulsive overeating, which we know can be unhealthy. For bears, however, stuffing their faces before they hit the proverbial pillow is about the healthiest thing they can do, because if they don't, they won't make it through the winter. Throughout the hyperphagia season an adult grizzly bear will pack away about 20,000 calories per day, mostly in the form of vegetation such as berries and whitebark pine nuts. This is the caloric equivalent of about 78 Big Macs—or 25 kilograms of buffalo berries—per day.
I was reminded of hyperphagia in October of 2015 while I was watching a grizzly bear guarding a moose carcass just off the Maligne Lake Road. The moose may well have come to grief after a run-in with a car, but regardless, the bear spent all fall with it. He would sleep on the carcass just in case he had to drive off any other bears. As a result, the bear gained a few hundred pounds and ensured a successful hibernation (he was collared, so we know he made it to spring).
Suspended Animation
Even while digesting a month's worth of moose meat, compared to other wildlife, bears are still fairly light hibernators. Occasionally, they will wake up and stretch, and overall, their body temperature doesn't drop too much. Ground squirrels, on the other hand, are true hibernators: their body temperature can drop to below freezing, their metabolism virtually stops, and they only breathe about once per minute. Researchers who work on ground squirrels report picking up their near-lifeless bodies during hibernation to conduct measurements while the sleepy squirrels just keep on snoozing.
In Jasper, we have three kinds of ground squirrel: Columbian, golden-mantled, and the hoary marmot (which is really just a giant ground squirrel). If you've ever seen them, and wondered why these ground squirrels always look so frantic, it's because they've got a limited amount of time to pack on their winter weight. They're only above ground for about four months in Jasper——the rest of the year they're dozing in their burrows—so they have to prepare for close to eight months of hibernation. Overwinter starvation can be a major cause of squirrel mortality.
Cat naps are for the birds
Birds don't hibernate, but some come close. If spring and summer temperatures fall, hummingbirds, like our Calliope and Rufous, will enter what's known as 'torpor' for a few hours. Torpor is like hibernation in that the birds are unconscious and their bodies' metabolism slows down to conserve energy, but torpor only occurs for a few hours a day, not for an entire season.
If there's a freak spring snowstorm, for example, hummingbirds will find cover and enter torpor. And they'll also enter torpor at night while they are sleeping. Since hummingbird metabolism runs like a Tesla on RedBull, they can't last an entire night without food. To make it to morning, they must enter torpor. A few years ago, a late snowstorm in May had blanketed the available flowers, and the hummingbirds were lining up at our Stone Mountain feeders. For hummers without a nearby feeder, torpor would have been the only choice.
The Least expected
Another winter survival strategy is used by those species which are neither hibernating nor migrating. These active animals not only need a decent amount of fat, but they also need a source of food throughout the winter. In a previous Jasper Local article, we looked at Dippers, birds which forage in running water all winter, and in another article (Chionophiles) we examined how a bunch of different animals cope with winter's cold. Standing alone from the pack is one little Jasper mammal with its own unique approach.
Pikas don't hibernate, they don't forage all winter, and they don't gain enough weight to last until spring. Although they look like big mice, pikas are actually related to rabbits. But while rabbits stay above ground and eat bark and twigs all winter, pikas harvest vegetation in the summer, dry it out like hay, and store it under the snow. They can then munch away at their leisure while they wait for spring.
Another Jasper mammal splits the difference between the hay-farming pikas and the hibernating ground squirrels. Least chipmunks don't hibernate… at least not fully. Instead, they go into long periods of torpor during the winter, but wake up every so often to eat food that they've stored in their burrows. Unlike pikas, they don't go so far as to dry out hay, but they do store nuts and seeds in the winter larder.
In-flight meal
Migrating birds have a unique problem – they have to carry some body fat to fuel their energetically-expensive migration, but if they get too heavy, they tend to fly like rocks. Obviously, they can't just bulk up for the entire trip; they have to stop and refuel—like a dedicated hockey parent, re-routing the team caravan to Tim's, for a much-needed double-double. Most birds will have to stop about once per day.
Our little Rufous has the longest migration of any hummingbird—they can migrate as far as 4,000 km. Being so tiny, they have to combine this epic journey with many stops, gaining just enough fat each time to make it to the next nectar source. Bigger birds can make fewer stops.
Jasper is a stopover for many birds that are refueling on their way south. One remarkable bird that you'll only see in Jasper during the fall migration is the Red-necked Phalarope. These wading birds breed in the arctic and winter on the ocean near South America, but to get ready for their next push south, they'll often stop at Maligne Lake for a few days. Prairie Falcons, Northern Harriers, Bonaparte's Gulls, and many others will also make Jasper a predetermined pitstop.
Asleep at the wing
Although they don't fly through Jasper, the world champion avian migrator in terms of non-stop flights is the Bar-tailed Godwit. Researchers have only recently discovered that these large shorebirds will cross the entire Pacific Ocean in one go (Alaska to New Zealand). It takes them about nine days to cover the approximate 11,000 km and it's thought that they actually sleep on the wing, shutting off half of their brain at a time to stay in the air. To accomplish this epic journey, Bar-tailed Godwits have the largest fat reserves (proportionately) of any bird, and some of their internal organs will even shrink to make room for more fat.
Animals that are focussed on fattening up for winter need every calorie they can get. A few years ago, on a crisp morning in late August, I was slowly cruising the Snaring Road with hopes of seeing some wildlife. The light was amazing and the buffalo berries were just ripening up, and I felt like a short hike would stretch my legs. Shouldering my trusty camera, I was just about to get out of the car when I heard some rustling in the bushes not far off. I had inadvertently stumbled onto an excellent example of hyperphagia, in the form of a young grizzly bear hoovering down Saskatoon berries! The bear was so intent on fattening up for winter that it paid me no mind whatsoever, but being a responsible wildlife watcher, I stayed in my car, observed it for a few minutes and then carried on, leaving the bear to gain weight in peace. Far be it from me to interfere with a bear's preparations for its own episode of Alone: Jasper Edition!
---
Mark Bradley // info@thejasperlocal.com